Your recruitment needs vary so it makes sense to choose a recruitment service that is designed to best suit your goals. Complex, confidential or business critical roles demand more attention and engaging our executive search retained services will guarantee a result that delivers against each and every one of your needs. Whether you are looking to make a senior hire, searching for very niche skills or experience, handling a sensitive hire or succession planning, using a retained search service is usually the most time and cost-effective way to access the best talent.
How a retained search service can meet your hiring needs:
• Access to professionals not actively job seeking
• Avoids costly hiring mistakes
• In-depth market and talent reporting
• Suitable for all difficult to fill or business critical roles
• Discreet and professional service
• Positive candidate experience
• Extensive screening and assessment
• Time & cost efficient
• Guaranteed success

Executive search is about people and connections. Building long term relationships takes time. Only our most
experienced consultants work on retained mandates as they have the networks needed to understand the
market. Supported by their teams and our back office operation they can reach the people and produce market
intelligence needed to fill those highly specialised or confidential roles. Read more about why here.
The Process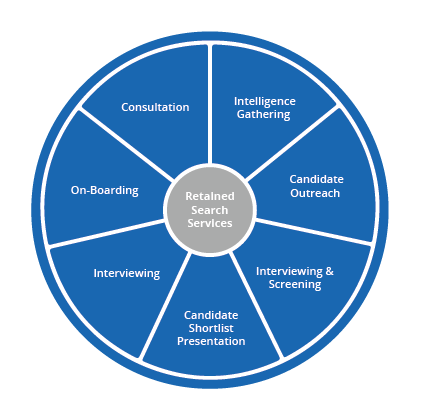 A positive experience is the key to whether a candidate decides to join your organisation or not. In a retained search, taking the time to nurture relationships with our existing networks and building trust with new contacts is the crux of our process. It allows us to effectively build confidence in your employer brand at every stage. The benefits are endless but importantly you are reducing the risk of costly hiring mistakes, working within your required timelines, guaranteeing discretion and reaching highly skilled and difficult to find talent not actively job searching.
Fees
The fees charged for a retained search are typically a percentage of the salary of the role we are recruiting for.
The breakdown will vary from project to project and is dependent on your own your requirements and our level
of involvement in each stage of the process. The difference between our other recruitment services, is that a proportion of the fee is paid up front rather than contingent on a placement being made. This enable us to spend more time and dedicate more resources to your search. If you are committed to making a business critical hire then you need a recruitment process and partner that matches that commitment. Contact us today to find out more and for a no obligation discussion.