Back to Blogs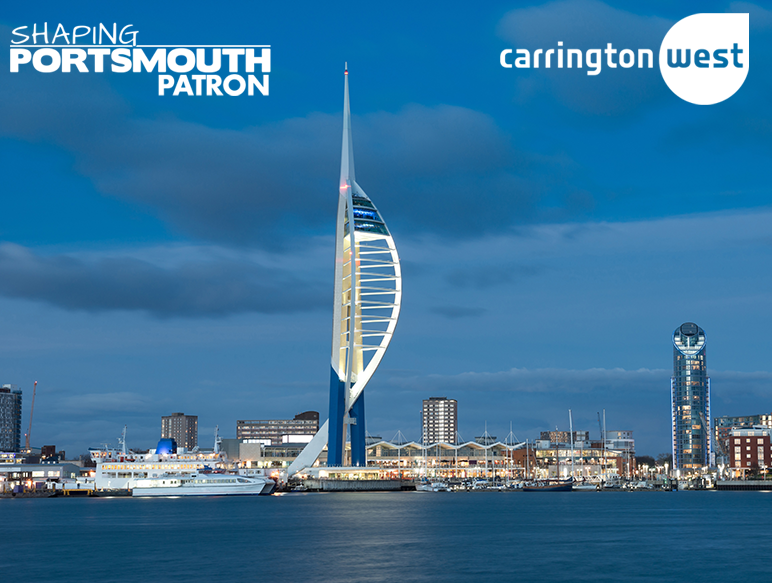 Shaping Portsmouth CEO Announces Retirement
​The position of CEO of Shaping Portsmouth is being advertised via Shaping Portsmouth Patron Carrington West.
To read more and apply please click here.
Please see the below press released issued by Shaping Portsmouth 21st September 2023.
Shaping Portsmouth Chief Executive Officer Stef Nienaltowski has announced that he will be retiring in the new year. Since taking over in January 2017, Stef has transformed the not-for-profit organisation with its mission to create partnerships and lead programmes which make Portsmouth Britain's premier waterfront city in which to invest, live, learn, work and visit. He will step down after the annual Shaping Portsmouth Conference at The Guildhall in January 2024.
Stef said "It has been the greatest privilege of my entire working life to have worked for and led this wonderful organisation. From 2013 when I first volunteered to join the then called Business & Enterprise programme, to January 2017 when I began my current journey as leader, the people I have worked with have been truly remarkable.
"Over the seven years of my time in the role as leader, our staff and directors, past and present, and the wonderful volunteers have made Shaping what it is today, and I know it will continue its upward path.
"The number of organisations that have financially supported our work has grown over the years and have enabled our achievements to be fulfilled. We continue to this very day to attract new partners. My perfect triangle of success, Staff, Volunteers, and Financial Partners, has put Shaping on a sustainable path."
Shaping Portsmouth is currently running 16 programmes covering business, education and the community and is helped by 180 volunteers. There are now 67 businesses and organisations across the city committed to supporting Shaping Portsmouth as Patrons, Partners, and Associates. The team has been strengthened and expanded in recent months with Sam McGrath appointed Director of Operations & Marketing, Matt Farmer as Head of Marketing & Communications, and Marian Oshodi-Glover as Business & Marketing Coordinator. New appointments have seen Steffan Jones take the lead on events and Kirsty Hill on education and community.
Shaping is also supported by a dedicated board of volunteer Non-Executive Directors, who will be overseeing the recruitment process for Stef's successor with the search on for a 'dynamic, enthusiastic and inspiring CEO to be the public face of their programmes and lead the organisation's sustainable growth'. The role, which is for three days a week, promises 'the opportunity to have a rewarding and purposeful career that could leave a legacy for generations to come"
Stef adds "As I look forward to the end of my time with Shaping I know it will be difficult for me not to start each day with the thought
"what can we do for our city and its population today" but I believe the time is right for someone with new ideas and energy to come in and lead this quite brilliant team. I hope to get to see most of you who read this announcement in the coming months as I want to say the deepest and most heartfelt thank you to you for all you have done for our organisation and city with your support, in whatever form that has taken. Thank you for giving me this opportunity to contribute to the success this city has had over the past seven years and I look forward with pride and confidence as to what the future will bring."
Shaping Co-Chairs Simon Barrable and Mark Waldron said
"We would like to put on record our thanks to Stef for the incredible job he has done in transforming Shaping Portsmouth since taking the helm in 2017.
"Shaping is now embedded in the heart of our proud waterfront city, driven forward by a talented team, a committed board of directors, a passionate army of volunteers and a growing band of Patrons, Partners and Associates.
"Although we will be sad to see Stef step down after next year's conference, his decision to retire opens up an amazing opportunity for someone to take forward what is now a really strong organisation, driving the Shaping strategy and piloting a course for even greater success as its dynamic new CEO."
The position of CEO of Shaping Portsmouth will be advertised via Shaping Portsmouth Patron Carrington West later today.
​
About Shaping Portsmouth
Shaping Portsmouth is a not-for-profit company whose vision is to make Portsmouth the UK's Number 1 City in which to invest, live, learn, work and visit. By bringing Business, Education and
the Community together we are delivering real change. Working in the city since 2010, Shaping Portsmouth is the only organisation with the leadership and all-round experience to effectively deliver the programmes required by the many communities within the city. With 803 businesses, 650 local Ambassadors and 180 active volunteers working with and for the organisation, it is a network of experienced change making professionals and dedicated members, focused on impacting change and encouraging growth to the area.

For more information visit www.shapingportsmouth.co.uk
Matt Farmer, Head of Marketing & Communications
matt.farmer@shapingportsmouth.co.uk