Back to Blogs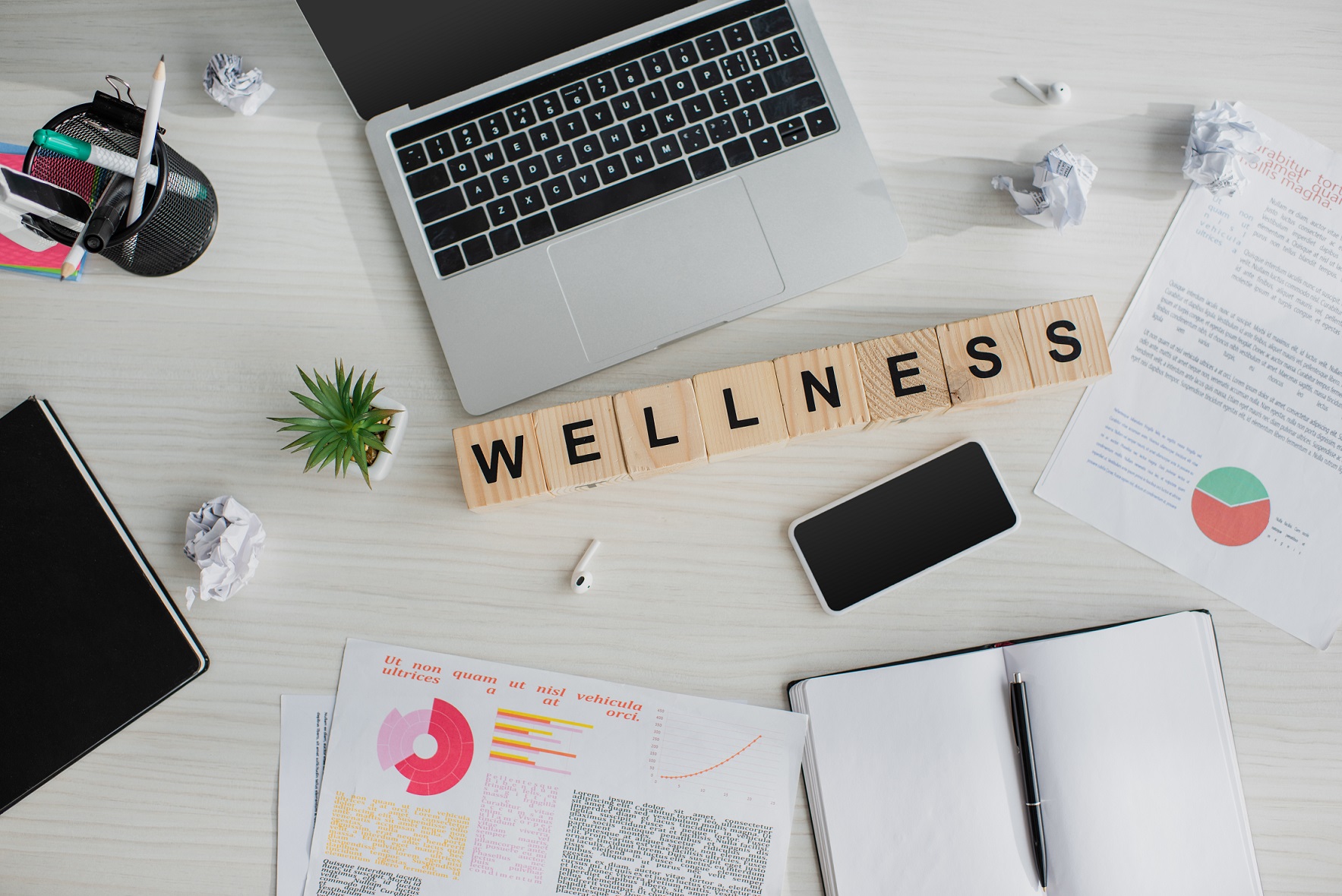 10 Tips to Stay Well at Work
Top tips on minimising stress, maximising productivity and keeping healthy whilst sat at your desk!
We all probably know what we should be doing to generally stay healthy, but sometimes it can be hard to remember when we are sitting at a desk all day consumed in our work. We weren't designed to be sedentary for such long periods of time, and whilst it is a fact of life most of us can't change, there are small things we can do to make sure we stay fit and healthy. Follow our top tips, and not only will you feel energised and feel better equipped to beat stress, you will be more productive!
​
1. Stay hydrated
Staying hydrated will help you feel more alert and energised throughout your working day and it can help you resist the temptation to snack too! You can add fruit or sugar-free squash if you prefer flavoured water. Keep it sustainable and track what you are drinking by using a reusable water bottles.
​
2. Eat healthy snacks!
By planning in healthy snacks through the day, you can reduce the likelihood of eating sugary snacks that will leave you feeling more tired after the sugar rush. Some good ideas are fruits, vegetables and nuts.
​
3. Bring a packed lunch
Planning and preparing a healthy packed lunch can help keep your energy levels high all day. A balanced healthy meal will keep you satisfied and having a lunch you look forward can help you stay in a positive mindset in the morning! Think about incorporating pulses and grains for slow energy release that will avoid giving you a mid afternoon slump, and leave you feeling fuller so you are less likely to reach for a sugary snack.
​
4. Get away from your desk at lunch
Taking breaks away from your desk can improve productivity as it helps you to refocus and re-energise your mind. Consider incorporating a lunch time walk, or even just eating somewhere other than your desk or outside to give you a break away from your screen.
​
5. Exercise
Exercising regularly is great way to boost your energy and wellbeing. Consider what works best for your working hours so you are more likely to stick to it. Building exercise into your daily routine will soon become a habit.
​
6. Plan your day
Planning your day can boost your focus and productivity and decrease stress! Creating a list to work through makes it easier to prioritise tasks and manage your time. Everyone is different so take the time to try different tools to help and find out what works for you.
​
7. Reduce caffeine
This is easier said than done for some! Caffeine gives you a short boost of alertness but more often than not will lead to crash later in the day. It can also increase anxiety, restlessness and dizziness making it hard to concentrate and it can impact your sleep too. You can replace that extra coffee with herbal teas or decaf options.
​
8. Good posture
We all sit at our desks for the majority of the day and this can put pressure on your neck, shoulders and back. You can minimise this with good posture and stretching to offset the tension.
​
9. Keep a clean & tidy work space – tidy at end of the day
A clear workspace equals a clear mind! Keeping your desk clear and free of distractions can help you focus and avoid getting side tracked away from your to-do list. At the end of the day, try to take the time to tidy your workspace and put everything away. This can also help you decompress from your working day and enjoy your personal time, without thinking about work.
​
10. Get a good night's sleep!
I cannot stress the importance of sleep enough! Getting enough sleep the night before work can help prepare you for the day and maintain your focus. When you get sufficient and high-quality sleep, you may feel less sluggish in the morning and ready to take on the day's responsibilities. It can also help you avoid feeling tired during the workday. You can boost the quality of your sleep by creating a bedtime routine and limiting distractions.
​
​
We're recognising Mental Health Awareness Week 2023 (15 - 21 May). You can find more resources about wellbeing at work on the Mind charity website.
Want to work for a company that puts people first? Work for us today.
​Please contact us if you have any queries.
​
​
​
​