Back to Blogs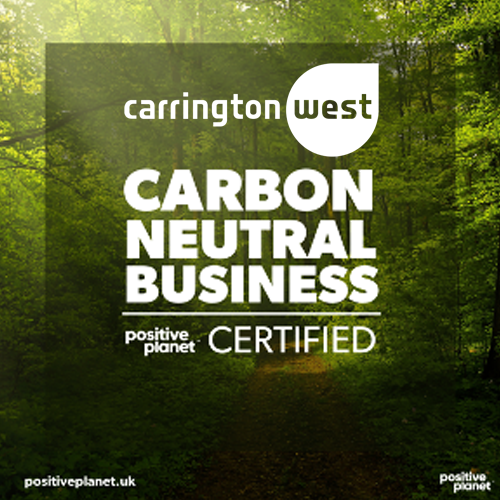 Carrington West achieves Carbon Neutral status
Carrington West are excited to announce that we have achieved Carbon Neutral accreditation through our partnership with Positive Planet! This is an important achievement for our sustainability goals, and a milestone in our journey to becoming a Carbon Net Zero company. We have also signed the SME Climate Commitment in 2022, joining thousands of UK businesses in tackling climate change. As a business, we're always looking to the future, and we know it's vital for us to commit to sustainable business and to limit our impact on the environment in the most responsible way.
Our sustainability champion, Jackie Alling, answers some common questions below.
What makes Carrington West Carbon Neutral?
We have been working with Positive Planet over the summer to help measure our carbon emissions as a company. As this baseline data is from last year, we wanted to mitigate the impact of our business operations by offsetting 100% of our emissions. The contribution we have made to the Positive Planet climate impact fund, which meets United Nations Sustainable Development Goals, makes us Carbon Neutral.
How do we measure our Carbon emissions?
Positive Planet have reviewed our Scope 1, 2 & 3 data to give us a detailed carbon emissions calculation which meets GHG protocol standards. Read more about this here.
How can we know we are achieving Carbon Neutrality?
Being Carbon Neutral is about balancing emissions of CO2 with its removal, in this case offsetting through carbon capture technology and reforestation projects for example. We have a carbon reduction plan to help us meet our Net Zero goal which is the state where we are no longer emitting carbon- for example all our energy coming from renewable sources. We have a dashboard so you can see how we are measuring up.
Who are Positive Planet?
Positive Planet help businesses to make more sustainable strategic decisions by offering a one stop shop for your carbon reduction journey- from advice, calculations, training, to offsetting.
What's next for Carrington West?
We have a carbon reduction plan which we have already started to work on. This will look at how we engage our suppliers and our colleagues around our net zero strategy, and reviewing our internal processes and policies. We have given ourselves an optimistic and challenging net zero target for 2025 so this will need everyone to play their part to help us achieve this.
Read more about our environmental & sustainability work here.
If you have any questions about our efforts, please contact
Jacqueline Alling
jackie.alling@carringtonwest.com
02393876026
Or reach out here.