Back to Blogs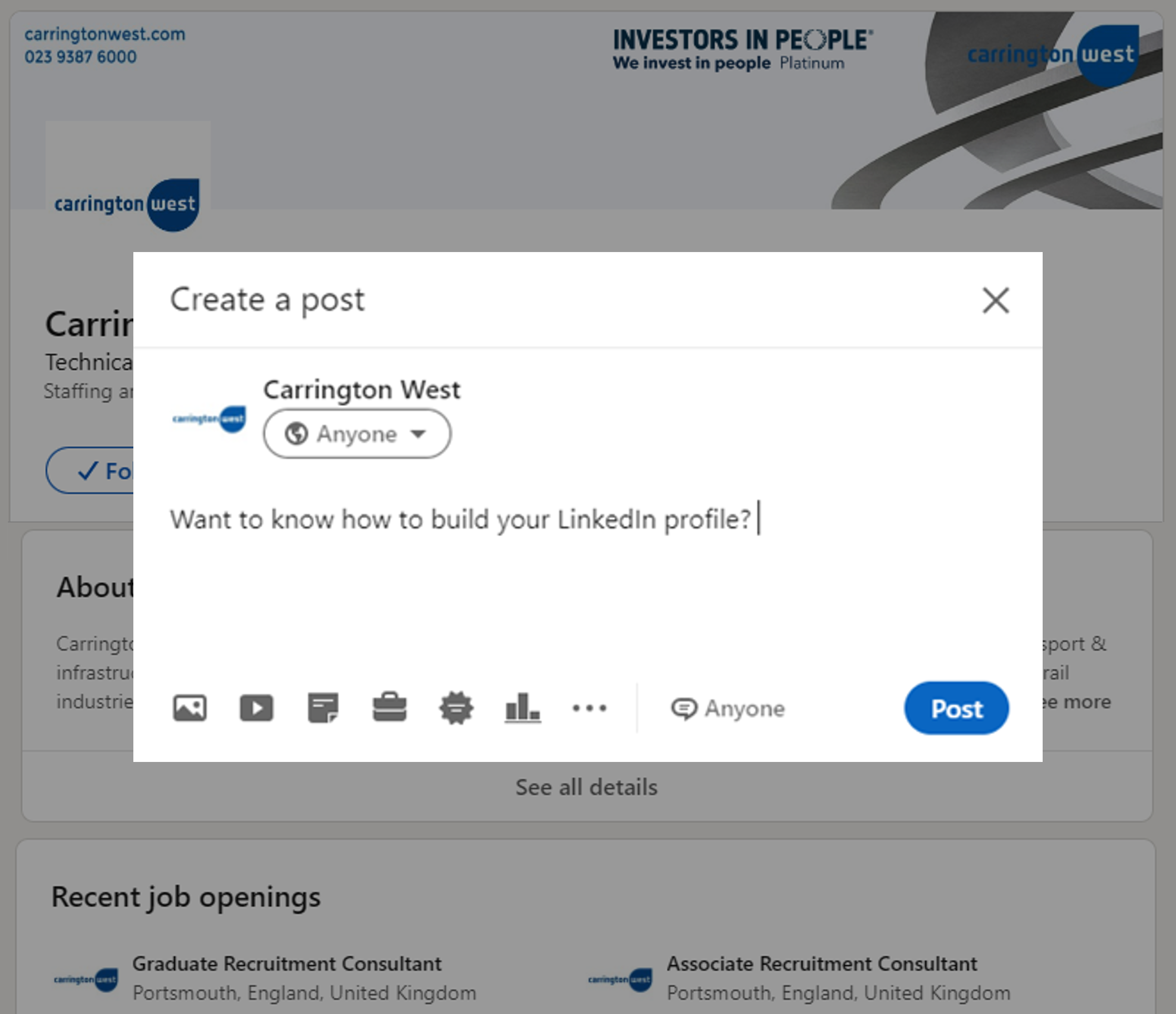 Graduate Guide to Building a LinkedIn Profile
​Creating a LinkedIn account is easy much like any social media site. Setting up your profile and maximising your presence is a valuable (and free!) way to put yourself in front of the right people during your job search.
Did you know LinkedIn has 810 millions users in 200 countries – with 33 million in the UK?
Recruiters, hiring managers, and HR professionals are on the platform every day searching for candidates like you. If your profile is in the best possible shape, you will get found. Follow these steps to make the most of LinkedIn.
Remember – all the information in your profile must be accurate and honest.
Before you start…
Turn off notifications!
You don't want anyone you are already connected with to see every minor change you make. Since your profile is a work in progress, leave it off. You can always turn it on later if you want.
Check your other settings, remember that you want to be found. Everything should be public for now, there shouldn't be any reason to hide your profile from view.
Your Basic Profile
Profile Picture. This is social media and not a CV, so people will expect to see a photo. A simple headshot works best, but ultimately, your image is your choice.
Cover Image. People are inherently visual, so do put a cover picture up. You can use stock images of something innocuous and generic, if you don't have anything related to the industry you want to work in.
Location. Your location is important, but less so if you are willing to travel or relocate for work. If this is the case, say so in your "About" section.
Headline. This is the line that appears below your photo. It will default to your job title, but if you are building a profile for the first time, and actively job searching, you may want to use the space to add a phrase such as "Engineering graduate looking for career role in a design consultancy". Don't be shy, you can make this a toll that works for you. Also think about key words, what people will be searching for if they want to find you and keep it short and aimed at where you want to be.
Select "Open To" as that will guarantee you go to the top of the list of people looking for workers in the paid version of LinkedIn for recruiters!
​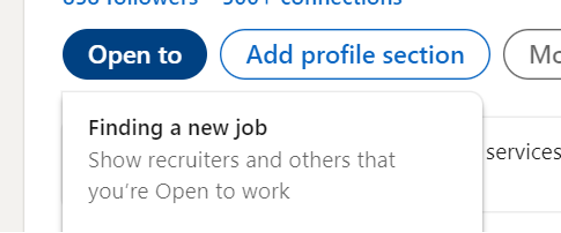 Contact Information Add all of your contact information. If someone is keen to get hold of you they will call or email, but they may InMail you. Keep an eye on your messages once you are up and running.
About Section
Your About section should be a few lines about you and you key experience – especially in the first three lines. Anything further than the top three lines will need to be clicked on to read, so get key information in first. Write in the first person, this is social media not a CV, so it can be less formal but still professional. Give an overview of your career ambitions and goals and include your skills. This is where you can add in part-time work, as well as any sports skills. Also think about keywords - what skills do employers look for in the area you want to go into? Include them in your introduction.
Experience Section Add all your work experience. This is where you show your mettle. Include all job roles such as part-time work. If you are at the beginning of your career you can also include any volunteering or positions of responsibility such as sport or committee responsibility. Give a short overview of each entry outlining the skills you've gained and responsibilities you had.
Education
Only put in your university once you have graduated – unless there is anything unique about your schooling. Also, add other sections for other qualifications like languages and certifications. This doesn't need to be the badges you earned in school, but if you are a qualified lifeguard for example, it shows a learned skill and commitment to achieving a certain level of standards.
Following
Who and what you follow is visible! Ensure you follow influencers, schools, and companies that support your professional profile. This will also keep you up to date with your industry. Follow companies you'd like to work for, hashtags and join relevant groups that support your profile too.
Do's and Don't's
Once you have a profile, you can get to work using the platform to network. There are some basic do's and don'ts to consider.
Do:
Connect with your peers, family, friends.

Connect with recruiters.

Share news articles from credible news sources with your own comments and encourage a conversation about the issues in your sector.

Spell and grammar check your posts.

Aim to spend about 10 minutes twice a day scanning your feed and engaging with content.

Think about original content you'd like to post.
Don't:
Use inappropriate language or poorly written text.

Keep conversations professional and relevant to your career, there are other platforms for more social interactions.
Using this guide, your LinkedIn profile should now be complete and ready to go!
Read our recent article on Building a Better Graduate CV.
Contact us here if you'd like to discuss your job search, and don't forget to follow Carrington West on LinkedIn here.