Back to Blogs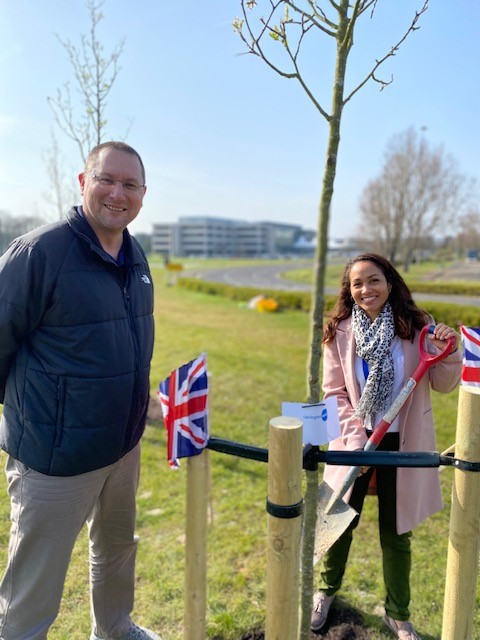 Queen's Green Canopy at Lakeside
​
Carrington West are proud to sponsor a tree as part of the Queen's Green Canopy (QGC) initiative here at Lakeside North Harbour.
The QGC marks The Queen's Platinum Jubilee, celebrating this moment in British history in a sustainable way that enhances our environment for the next generation. Alongside 9 other businesses located at Lakeside, we've planted an ornamental pear tree on the grounds and made a donation to The Woodland Trust.
The Woodland Trust is the UK's largest woodland conservation charity, and with all the businesses involved we donated a total of £500. Sustainably sourced from a local supplier, the trees are Pyrus Chanticleer which produce bee-friendly flowers from Spring until Summer and will complement the 10 beehives on site.
Simon Batemen, asset manager at Lakeside North Harbour, commented:
"At Lakeside, we wanted to honour Her Majesty's service to the nation and celebrate her Platinum Jubilee in a way that complimented our values of sustainability and wellbeing. The Queen's Green Canopy initiative was the perfect way to mark the occasion while improving our environment."
"We consider our grounds and immediate proximity to blue and green space to be one of our most important assets in terms of living our values, supporting employee health and wellbeing and creating workspaces fit for the future."
"We would like to thank all of the businesses based at our campus who sponsored a tree. Not only will these beautiful, bee-friendly trees enhance the biodiversity of our grounds, but will stand for years to come for future generations to enjoy."
Jacqueline Alling, Carrington West's Environmental & Sustainability champion, added:
"Planting a tree as part of the project allows us to commemorate this historical Jubilee, as well as enriching the environment around us. Carrington West has been at Lakeside for 10 years in 2022 and we're proud to leave our mark by taking a step toward a greener future."
Read more about our sustainability commitments here.
https://lakesidenorthharbour.com/plant-a-tree-for-the-jubilee/
For questions or information, contact Jackie here.