Back to Blogs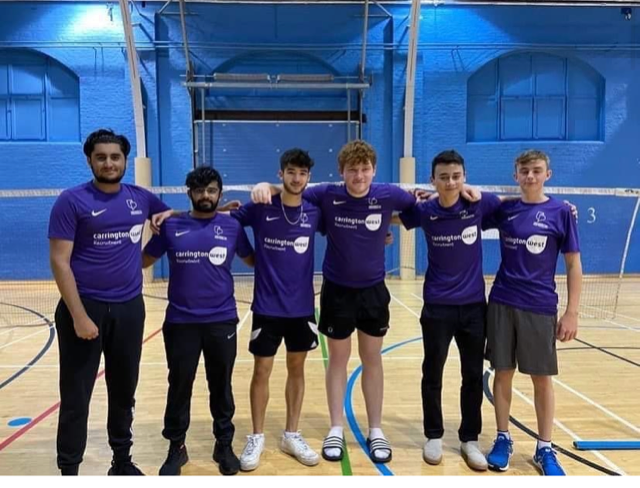 New Partnership with University of Portsmouth Announced
​FOR RELEASE: NOVEMBER 2021
Carrington West & University of Portsmouth Sports Partner to Help Boost Student Employability
The University of Portsmouth is delighted to announce a new partnership with Carrington West, an award-winning, Portsmouth-based, technical recruitment company. The sponsorship deal will see Carrington West become the main partner of competitive sport at the University of Portsmouth.
The partnership sees Carrington West become the front of shirt sponsor for the University's sports teams. Carrington West will also deliver educational seminars and workshops for students, ensuring that students get both on and off the field development opportunities, which is vital to their continued success in the graduate market.
James Fernandes, Managing Director of Carrington West, said:
"We are incredibly excited to be partnering with the University of Portsmouth sports department this academic year. As a Portsmouth-based employer, we had asked ourselves how we can best use our knowledge and skills to support young people entering the job market for the first time. As soon as we met with the University sports department, it felt like a natural fit. They work hard to ensure students have access to a wide variety of sports and fitness activities that contribute positively to physical and mental wellbeing. This is aligned with our own mission to put people first and help everyone to be the best version of themselves through continual learning. Both parties were looking for a true partnership not just a sponsorship deal, and we are eager to see what we can achieve."
Amanda Ansell, Marketing Manager at Carrington West, said:
"Entering into a partnership with the University was the result of a strategic decision for us to align our brand with organisations that are part of the community our own staff live and work in. It is fantastic to see our name on the front of the team kits, but this is an opportunity for so much more to be achieved. We are looking forward to working on numerous projects and activities that fall within the scope of this partnership, including student employability and local charity initiatives."
Paul Tilley, Head of Sport at the University of Portsmouth, commented:
"Here at the University of Portsmouth Sport, we're very excited to be working with such a prominent local business to provide support to our competitive sports programmes. It is an exciting time for the University of Portsmouth as we head towards the opening of our new £57 million Ravelin Sports Centre. We have an ambitious vision for sport at Portsmouth and partnering with sector leaders like Carrington West is key to delivering our strategy."
The first stage of the partnership has seen some of the University sports clubs receiving and competing in their new kits. The new Ravelin Sports Centre due to open on 13 December includes teaching facilities to enable Carrington West to deliver workshops and seminars focusing on key employment skills and attributes for students.
Founded in 2011 Carrington West is experienced and successful in the recruitment community, providing high calibre talent in the UK for highways, transport and infrastructure, town planning, property, water and environmental, utilities, power and telecoms, building and rail industries. They recruit interim, temporary and permanent professionals from entry to board level for private and public sector organisations.
For more information on the University of Portsmouth and Carrington West partnership, please contact
Amanda Ansell, Marketing Manager, Carrington West
Amanda.ansell@carringtonwest.com
023 9387 6066
Charlotte Doyle, Deputy Head of Sport, University of Portsmouth