Back to Blogs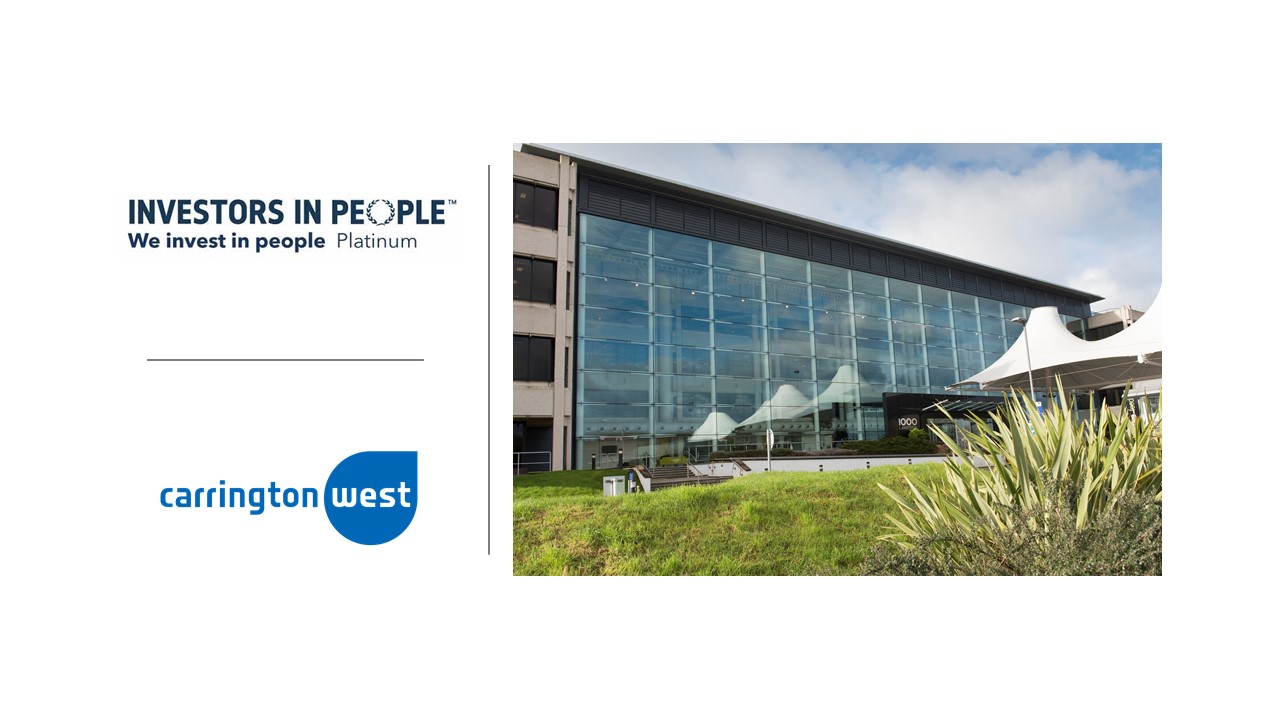 Carrington West Achieves Investor in People Platinum Status to Secure Place in Top 2% of UK Companies
Carrington West is pleased to announce it has been awarded platinum status by Investors in People (IIP), demonstrating its commitment to its employees and to its "people first" business strategy.
The IIP platinum accreditation is the highest accolade that can be achieved against the Investors in People standard and is currently held by only 2% of IIP accredited organisations. In the latest round of surveys Carrington West is ranked 7th of all UK companies currently working to IIP frameworks.
James Fernandes, Carrington West MD, commenting on the achievement, "We are immensely proud to be awarded platinum by IIP. We started working with IIP only four years after we started the business with the very clear vision to make sure that our people are at the forefront of our business vision. Our journey and our commercial success, especially over the last eighteen months, are as a result of our people and our collective commitment to continual learning."
Senior HR Advisor, Emily Christmas says "Since our Gold Accreditation in 2018, we have worked closely with the IIP to ensure we are adhering to their frameworks by demonstrating our commitment to high performance through excellent people management. This incredible milestone is a true testament to the people first approach we take at Carrington West and we look forward to our ongoing work with the IIP to continually improve and develop our people policies and practices and embed them in everything we do"
Investors in People is the international standard for people management, defining what it takes to lead, support and manage people effectively to achieve sustainable results. Underpinning the standard is the Investors in People framework, reflecting the latest workplace trends, essential skills and effective structures required to outperform in any industry. Investors in People enables organisations to benchmark against the best in the business on an international scale.
Paul Devoy, Head of Investors in People, said: "We'd like to congratulate Carrington West, Investors in People accreditation is the sign of a great employer, an outperforming place to work and a clear commitment to success. Carrington West should be extremely proud of their achievement."
For all media enquiries please contact:
Amanda Ansell
Marketing Manager
T: 023 9387 6000
E: Amanda.ansell@carringtonwest.com
​
About Investors in People
Investors in People is the Standard for people management. The international people management Standard defines what it takes to lead, support and manage people well for sustainable results. With a community of 14,000 organisations across 75 countries, successful accreditation against the Standard is the sign of a great employer, an outperforming place to work and a clear commitment to sustained success. Based on a tried and tested framework and a rigorous process of assessment, organisations that meet the Investors in People Standard proudly display their accreditation to the world because they understand that it's people that make the difference. There are four levels of accreditation; Accredited, Silver, Gold and Platinum.
​