Back to Team
Ryan Williamson
Lead Consultant - Power & Utilities
​Ryan is Lead Consultant in the power & utilities team, with a specific focus on the renewables, transmission/distribution and multi-utilities markets. He works with contractors and consultancies on temporary, fixed term and permanent positions of all levels across the UK. In his leadership role, Ryan has helped the team to build a reputation for excellence in the utilities & power market. He is a consummate professional and through his hard work and dedication he has built an extensive candidate network across the country. In October 2021, Ryan was Highly Commended at the Global Recruiter Awards.
Ryan joined Carrington West after a number of years successfully progressing his career in financial services. After growing his team he developed an interest in the hiring process that resulted in him transitioning to recruitment, where he joined as a consultant but was quickly promoted to his current position, and he now is an MREC CertRP. Ryan very much enjoys working for Carrington West and the culture of success and fun that a day at work brings.
When not at work, Ryan is a keen football and electronic music fan and enjoys spending time with his wife and socialising with friends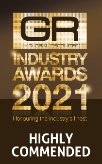 View consultant jobs - Ryan Williamson
Can't find what you're looking for? ​