Back to Blogs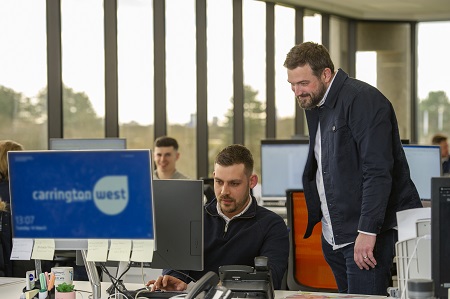 Carrington West Top 10 Best Places to Work - Sunday Times
​Carrington West is excited to announce it has been named by The Sunday Times (powered by WorkL) as one of the UK's top ten medium sized businesses in their "Best Places to Work" list.
Released digitally on 12th May, and printed in The Sunday Times on 14th May, the list has long been considered a definitive guide to the best employers across the country.
The list is run in conjunction with workplace engagement software supplier, WorkL and is based on responses to an anonymous survey completed by employees. The survey covers in depth areas based on employees' overall happiness, willingness to recommend their employer to a friend as well as feeling valued, supported and provided opportunity for growth. An assessment is also made from the responses of the provision of employee wellbeing programmes, reward and recognition, learning and development and overall employee engagement.
James Fernandes, Carrington West MD says of the achievement, "We are immensely proud to be featured on this list and I would like to thank our employees for taking the time to share their thoughts and feelings. When we founded the company we set about creating a company that we wanted to work for. Our senior leadership team have since been on a steep learning curve to nurture a culture of trust. We have kept this goal at the heart of our vision and we truly believe that putting our people first has led to our commercial success."
The accolade comes as Carrington West recently doubled its office space in Lakeside North Harbour, Portsmouth, to accommodate a period of rapid growth. Founded in 2011, Carrington West has grown to 100 employees and a £75m turnover, and is currently looking to expand further over the next few years.
Carrington West HR Manager, Emily Christmas says "Keeping employees engaged as the business grows is one of the biggest challenges we have faced as a business. Our culture has evolved and we have had to evolve our people practices accordingly. We have done this by listening to what our employees want and need to be happy and feel trusted at work."
Carrington West has previously been recognised for its "people first" approach, having been awarded Investors in People "Best Company to Work For (50-200 people)" in November 2022. The company has held Investors in People platinum accreditation, the highest level attainable, since 2021.