Anglian Water is trialling the use of fibre-optic cables to find hidden leaks in water mains.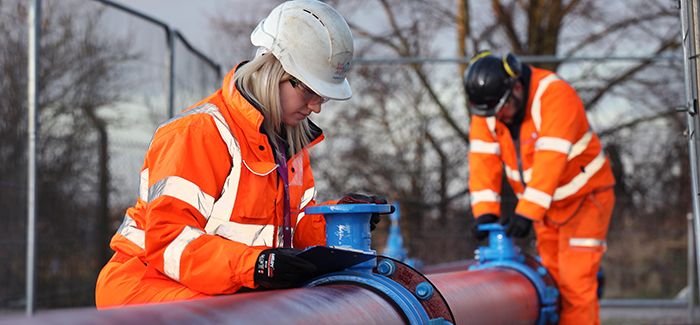 Anglian's engineers are trialling the technology across the company's alliance with Kier and the Craley Group.
Craley Group's iSMTM technology is being trialled on a Kier designed model section of pipework on an Anglian Water site in Lincolnshire. This model will allow engineers to test the endurance and capability of the fibre optics and allow them to hone the technical process of installing and removing the fibre optics from the pipeline.
Once the fibre optic sensor cable is fed into water pipes, the technology has the potential to continually monitor the pipeline for leaks and other events in the network by creating thousands of virtual sensors along the section of pipeline being monitored. The information from these virtual sensors is processed in real-time with immediate reporting of any new leaks or events of interest occurring. Depending on the results of this initial trial, work could progress to full scale operational trials in a live water network.
Hayley Bruce, project manager for Anglian Water, said: "This technology has the potential to revolutionise the way we find and fix leaks across our water network and we're hoping it will be a fitting addition to our smart network strategy.
"Despite being the best in the business, we know we must go even further as it's one of the most important things to our customers and the wider environment. Anglian Water was the first company to use thermal imaging drones and naval hydrophone technology to help us find leaks - this could be the next tool in our armoury in the war against leakage.
Over the last five years the company has invested £120 million in driving down leakage and is now working towards further reduction of over 15% by 2025.
Bruce added: "We're exploring every avenue of engineering available to us to continually be better, and technology like this could revolutionise our ability to meet those tough targets."
https://wwtonline.co.uk/news/fibre-optic-cables-used-to-detect-leaks​